Rewiring Workplaces: Team Coaching – it's not just another team building exercise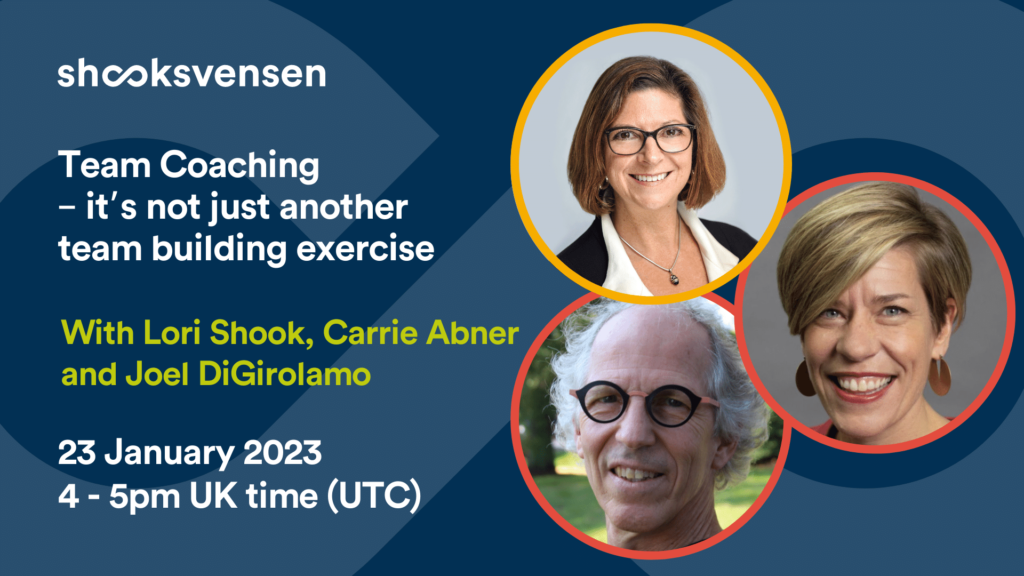 In this webinar, Lori will host a conversation with Carrie Abner and Joel DiGirolamo, two leading voices in the fast growing world of team coaching. They will discuss the different types of team interventions and why team coaching is such a fast-growing and impactful choice for organisations.
Time is 23 January 2023 at 4-5pm UK time (UTC)
The aim of this webinar is to help clarify the differences between different types of team interventions, drawing distinctions between team coaching, team building, facilitation and other approaches. This will serve coaches to understand different approaches they can take and also help those who hire practitioners to serve their teams.
The conversation will cover these points:
How team coaching is advancing as a profession and adding value to organizations.
What research on team coaching has shown is important to build high performing teams.
Why team coaching seems to be taking off so quickly in the world right now. 
What is the difference between team building, team training, team consulting, team mentoring, team facilitation, and team coaching. And why we should care about those differences. 
What organizations need to know and look for when they are buying services to support their teams. 
How the International Coaching Federation (ICF) is working to advance team coaching practice through the development of the Team Coaching Competencies and a new team coaching certification program.
About Carrie Abner
Carrie currently serves as vice president of ICF Credentials and Standards, where she works to strengthen and grow the certification of coach practitioners around the world and ensure the highest standards for professional and ethical practice in coaching.
She holds a Master's degree in international affairs from The George Washington University in Washington, D.C and has worked at local, national and international levels in various roles, but always with the intent to foster collaboration across diverse communities, protect human rights and promote best practice.
About Joel DiGirolamo
Joel is the Vice President of Research and Data Science for the ICF. He leads a research team whose goals are to advance the understanding of how coaching works and to understand how coaching is evolving and enhancing society. Robust research is the foundation of tools that can be used to build high performing organizations.
He holds a master's degree in industrial and organizational psychology from Kansas State University, an MBA from Xavier University, a bachelor's degree in electrical engineering from Purdue University, and is an Associate Editor for Consulting Psychology Journal.
Zoom and calendar links will be provided after registration.
Other courses & resources